It's only fitting that John is at the helm, charting a course with his coworkers, since he has done so in a professional capacity for most of his distinguished 40-year career. Of course, his qualifications extend far beyond captaining a small boat around a bend in the river.
Today, John is recognized worldwide for the scientific expertise and leadership he has demonstrated at ORNL, a Department of Energy research facility in Oak Ridge, Tennessee. Over the years, John has helped steer several large DOE science projects for ORNL, including fusion energy projects, the $1.4 billion Spallation Neutron Source, and now the $270 million Proton Power Upgrade project planned for completion in 2024.
The consensus among his ORNL peers is that John was destined for success right from the start.
He joined ORNL in 1983, after earning a doctorate in nuclear engineering from the University of Illinois at Urbana-Champaign. John worked in the Fusion Engineering Design Center to help develop a fusion engineering device, an early forerunner of a fusion plasma reactor. For more than 14 years, he worked both in Oak Ridge and in Germany to establish the feasibility of magnetic fusion energy.
"John did much of the systems modeling for fusion machines and was one of the pioneers in that field," said Bernie Riemer, a retired ORNL neutron source engineer who worked with John for many years. "He spent a lot of time in Germany helping design the conceptual model for ITER, the international fusion research project."
It was about this time that John began exhibiting exceptional scientific and easy-going leadership skills that would serve him and colleagues well for decades to come.
"John was already a senior scientist by the time I started at ORNL in 1999 as a postdoc, and it was interesting to see how he was able to progress as a manager," said Alexander "Sasha" Aleksandrov, a beam instrumentation scientist in the Accelerator Science and Technology Section. "I learned to value his advice on how to deal with people as much as I did for his technical expertise."
In the 1990s, the U.S. decided to build a second neutron source at ORNL to complement the High Flux Isotope Reactor, one that would be dedicated solely to neutron scattering. Consequently, John was asked to participate in the design, construction, commissioning and initial operation of a particle accelerator and neutron spallation facility, which would become the Spallation Neutron Source, a DOE Office of Science user facility completed in 2006.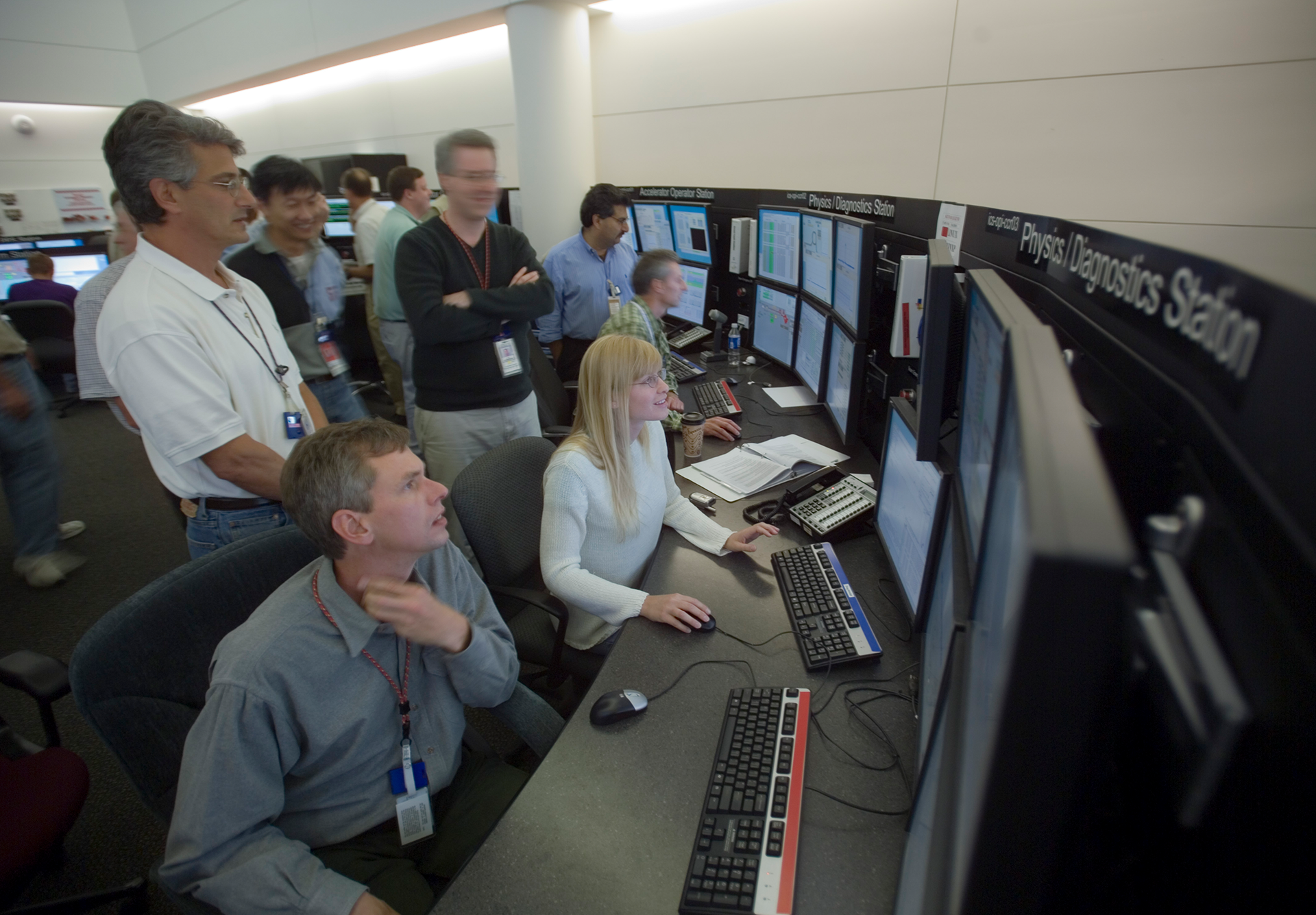 John Galambos (standing, left) watches as the Spallation Neutron Source becomes operational on April 28, 2006, sending the first pulsed proton beams to the target, and later that year, officially becoming the world's most powerful neutron source on time, on budget, and on target.
The facility was designed and constructed by an ORNL-led team with significant contributions from other DOE national laboratories.
"John, along with accelerator physicist Jeff Holmes, developed the simulation code for the SNS that helped us predict the behavior of the accelerator before we even started construction, which was a huge advantage," said Jefferson Lab Director Stuart Henderson, who worked for the SNS project as Accelerator Physics Group leader from 2002-2006 and Research Accelerator Division director from 2006-2010.
"Later, he led the software effort that allowed us to run the control room to commission the SNS, tune it up and eventually make it all work."
After 17 years, SNS remains the most powerful pulsed accelerator-based neutron scattering facility in the world.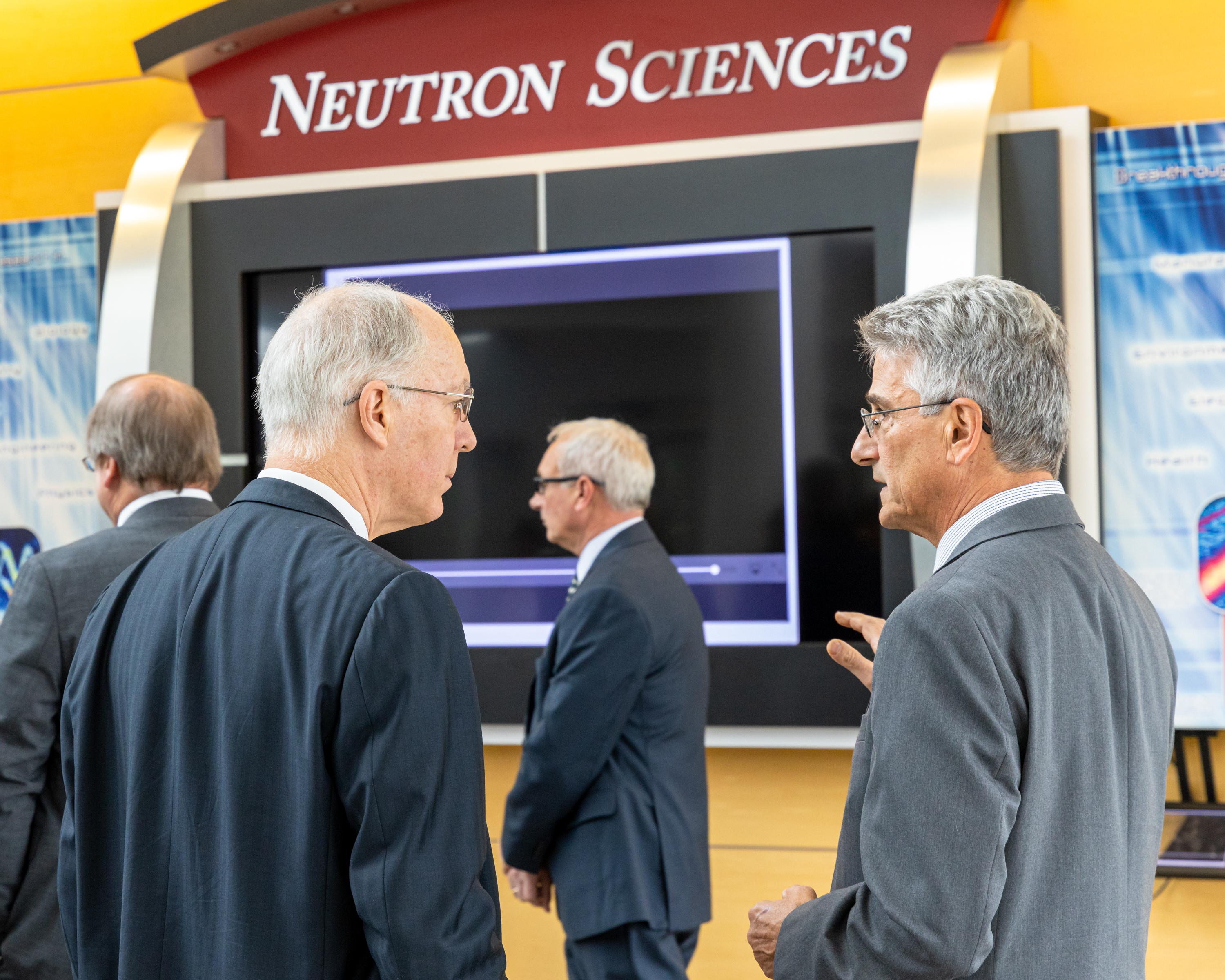 John Galambos (right) talks about neutron science with Illinois Congressman Bill Foster in 2019 at the Spallation Neutron Source.
"For me, one of John's standout qualities is his enthusiasm for improving the performance of the SNS and securing a leading role for ORNL's neutron sciences in the future," said Mark Champion, project manager for the Proton Power Upgrade project, or PPU, which will provide higher power to the SNS and enable construction of the planned Second Target Station.
"John strongly supports the PPU team and exemplifies a 'can-do' attitude. He focuses on the path forward and encourages everyone to complete the project according to the early finish schedule so that the upgraded facility can support science as soon as possible," Champion added.
"In addition to being an excellent researcher and visionary leader, John is also a supportive and inspiring peer to other leaders within the directorate," said Hans Christen, director of the Neutron Scattering Division. "He's always working to bring out the best in everyone he interacts with."
The recipient of multiple DOE outstanding student mentor awards, John has also received the 1993 Fusion Power Associates David J. Rose Excellence in Fusion Engineering Award. He is a member of the American Nuclear Society and in 2016 was elected Fellow of the American Physical Society, cited by the APS Division of Physics of Beams for "outstanding leadership and vision in the design, commissioning and effective operation of high-power hadron accelerators."
John Galambos in 2019 presenting about the status of the Proton Power Upgrade project.
As director of the PPU, John leads a team charged by DOE with bringing that complex project to completion sometime in the next 24 months. He has managed to keep the planning and construction on track for early completion despite the unprecedented challenges of an ongoing global pandemic and worldwide supply chain issues.
Through it all, he maintains his composure and good humor.
"John is extraordinarily talented and accomplished, and he has effected so much change here, yet he remains one of the most humble people I've ever met," said Sarah Cousineau, section head for accelerator science and technology. "So much of what we have now, the SNS and PPU project, none of that would have happened without John's abilities and determination. He has great foresight and ability to get things done and move things forward in a way that's never bossy or controlling. John genuinely makes the people around him feel good, and that's unusual."
John Galambos and his wife Sylvia at the 2011 ORNL Awards night.
Perhaps one of the best indicators of John's abilities and determination is the flashing red taillight on his bicycle. That light can be seen many mornings and evenings along the side of the road as he rides the 12 miles to and from work — in all kinds of weather.
Ironically, the man who helped lead the way in developing some of the most advanced and complex technology in history shuns modern technology on a regular basis. Instead, he uses a simple device made up of a chain and gears to propel him forward to his next accomplishment.
John lives in Oak Ridge with his wife, Sylvia. They have two children, Kevin and Katy. — by Paul Boisvert