ORNL's Top 10 Neutron Scattering Achievements of 2019
The Department of Energy's (DOE's) Oak Ridge National Laboratory (ORNL) is host to two flagship facilities for world-leading neutron scattering research—the High Flux Isotope Reactor (HFIR) and the Spallation Neutron Source (SNS).
Year after year, HFIR and SNS are used by scientists from around the world to gain new insights into the structure and behavior of energy and materials at the atomic scale—insights that in many cases could not be found any other way or at any other institution.
From discovering new phases of ice, to aiding in the development of advanced industrial catalysts and adding new knowledge to combatting neurological disorders such as Lou Gehrig's Disease, it was another productive year for neutrons.
In 2019, ORNL neutron scattering facilities provided beam time to over 750 US and international researchers who conducted a total of 780 experiments. Between HFIR and SNS, approximately 650 scientific publications were produced in the calendar year—467 of which instrument-based publications, and many of which appeared in high impact journals such as Nature and Advanced Materials.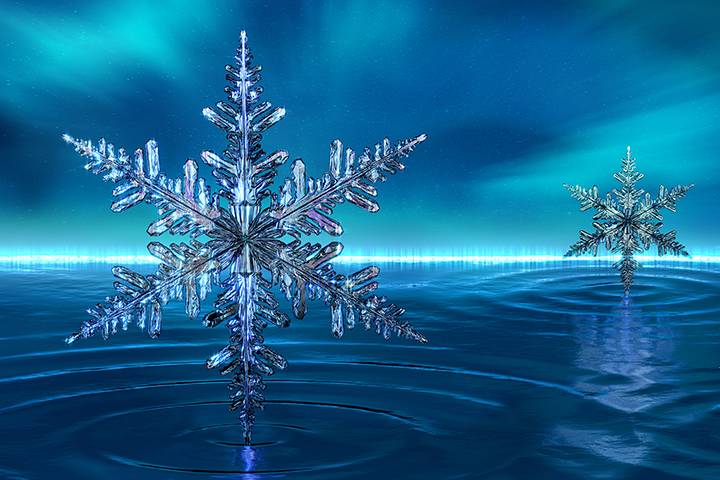 Unusual formation of crystalline ice questions idea of super-cooled water.
Nature — Observations of a sequence of lowest-energy crystalline ice phases show that pressure-amorphized ice is not related to deeply supercooled liquid water. The new results show the current theory of supercooled liquid water and its potential second critical point is incorrect: high-density amorphous ice, which underpins the theory, is not a quasi-equilibrium phase but is instead an artifact of a kinetically inhibited crystal-crystal transition. The findings will also lead to a better basic understanding of ice and its various phases found on other planets, on moons, and elsewhere in space. +Read more
Work was performed using SNAP, SNS beamline 3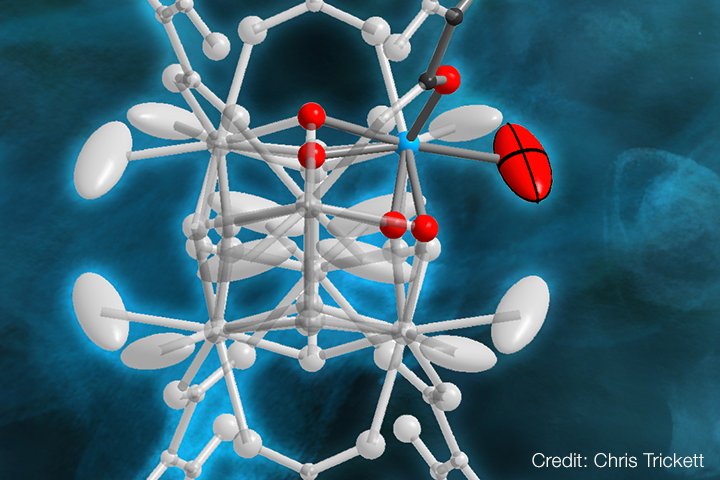 Key discovered to high catalytic performance of metal organic framework with numerous chemical applications.
Nature Chemistry — Neutrons identified the structure of a strong Brønsted acid site in a solid acid catalyst (MOF-808-SO4) that donates hydrogen ions to other molecular structures and is responsible for the high catalytic performance of the catalyst's metal-organic framework (MOF). It was also discovered that the removal of water inhibits the material's catalytic performance. The finding provides a potential way to "regenerate" the catalyst by adding water vapor into the product stream and is key to improving the efficiency of MOFs that could be used to manufacture C8 chemicals (chemicals with 8 carbon molecules) used in plastics, fragrances, cosmetics, flame retardants, solvents, and more. +Read more
Work was performed using POWGEN, SNS beamline 11A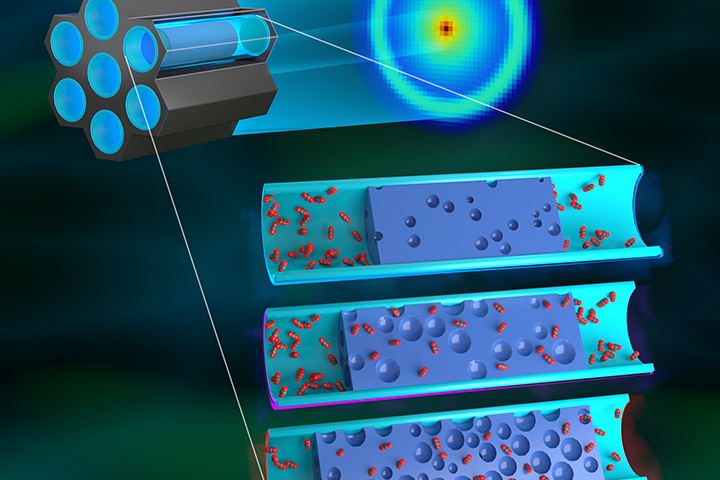 Optimal CO2 sorption in functionalized mesoporous silica.
ACS Applied Materials & Interfaces — Temperature-dependent variables were determined in experiments aimed at maximizing the efficiency in a mesoporous-polyethylenimine material used for carbon capture, and it was found that the material's functionality is optimized at 75°C. A better understanding of the mechanism of CO2 sorption in polyethylenimine-functionalized mesoporous silica will improve the development and efficiency of carbon capture technology.
Work was performed using GP-SANS, HFIR beamline CG-2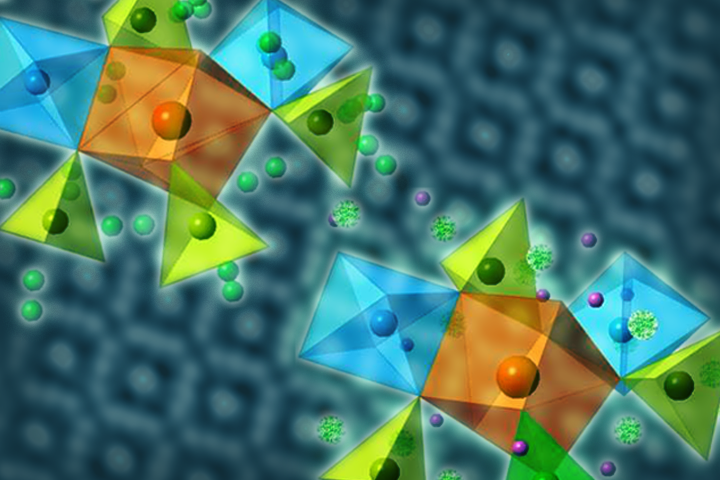 Understanding hydrogen, lithium ionic mobility in aqueous-lithium metal batteries.
Energy and Environmental Science — Positive hydrogen ions were found to be immobile in the protonated material Li6.25-xHxAl0.25La3Zr2O12 (H-LLZO), while positive lithium ions maintained high mobility at operating temperature. Differentiating between the mobilities of different ionic species is critical for the development of new materials, such as electrolytes for use in aqueous lithium batteries.
Work was performed using BASIS, VULCAN, and VISION, SNS beamlines 2, 7, and 16B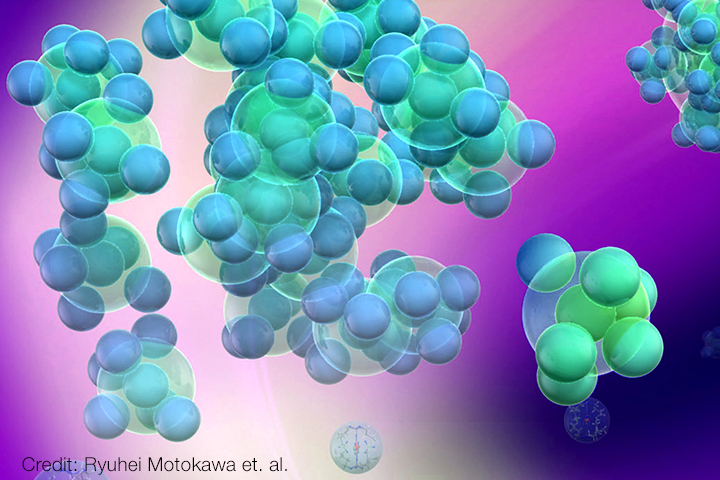 Hierarchical self-assembly in structured fluids.
ACS Central Science — A structured fluid used in liquid-liquid extraction processes has been found to self-assemble hierarchically—the formation of small clusters assembling into larger superclusters—rather than follow prevailing models of conceptually simpler micelle phase transitions. Structured fluids are mixtures of chemicals having different properties and compatibilities. Examples include gasoline, salad oil, and paint. They are also important, for example, in metal extraction processes, including the reprocessing of spent nuclear fuel. The new understanding will enable the delicate molecular interactions to be harnessed for developing new or improved applications with more functionality.
Work was performed using EQ-SANS, SNS beamline 6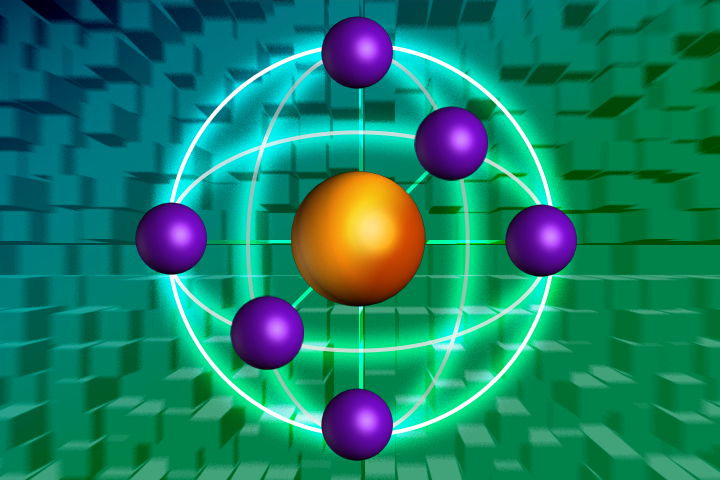 Spin-crossover transition underpins giant barocaloric effect.
Advanced Materials — A study relating applied pressure to temperature changes reveals a giant barocaloric effect—heating or cooling driven by pressure—on an iron-spin crossover compound. In such materials, the magnetic properties depend on the quantum-mechanical states of the electrons belonging to the iron atoms, and these states change with pressure and with temperature. This study, using a combination of diffraction, magnetization, and thermodynamic measurements, shows a strong coupling between temperature and pressure. Because this coupling occurs near room temperature, it is attractive for solid state refrigeration and related applications.
Work was performed using SNAP, SNS beamline 3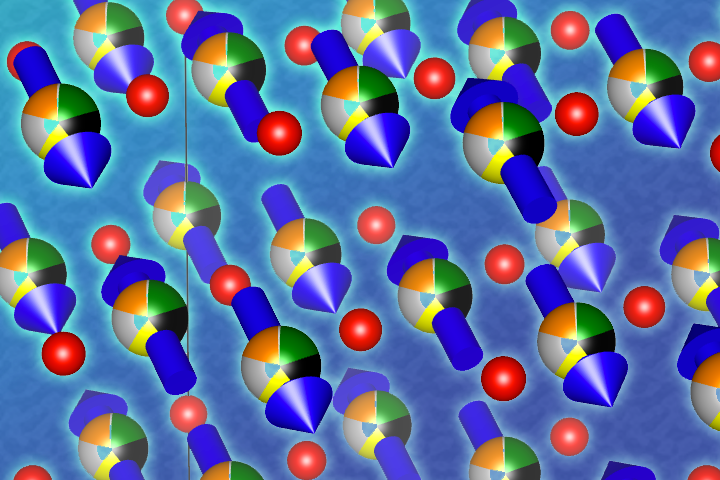 Antiferromagnetism survives extreme chemical disorder.
Chemistry of Materials — The magnetic structure of the high-entropy oxide (Mg0.2Co0.2Ni0.2Cu0.2Zn0.2)O was revealed. Experiments show long-range magnetic order survives chemical configurational disorder and suggests that short-range domains persist even at room temperature. The study opens a novel platform for understanding how disorder impacts magnetic structures and excitations, which is critical to developing new materials for energy and information technology.
Work was performed using POWDER, HFIR beamline HB-2A, and NOMAD and ARCS, SNS beamlines 1B and 18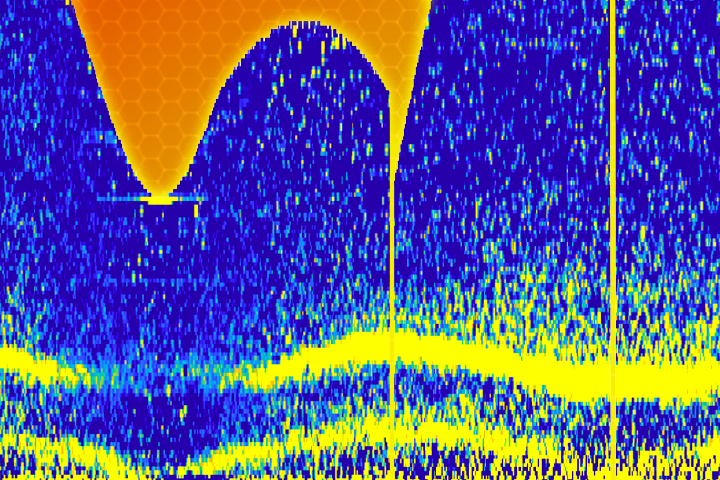 Bose-Einstein condensation in a spin-orbit coupled quantum dimer magnet.
Physical Review Letters — A small magnetic field was used to induce a magnon Bose Einstein condensation (BEC) in an ytterbium-silicate material, and a slightly larger field was shown to lead to an unusual regime related to the material's strong spin-orbit coupling (SOC). The study provides a prototypical illustration of how anisotropy arising from strong SOC can lead to new and unexpected collective phenomena even in relatively simple quantum magnetic systems. +Read more
Work was performed using FIE-TAX, HFIR beamline 1A, and CNCS, SNS beamline 5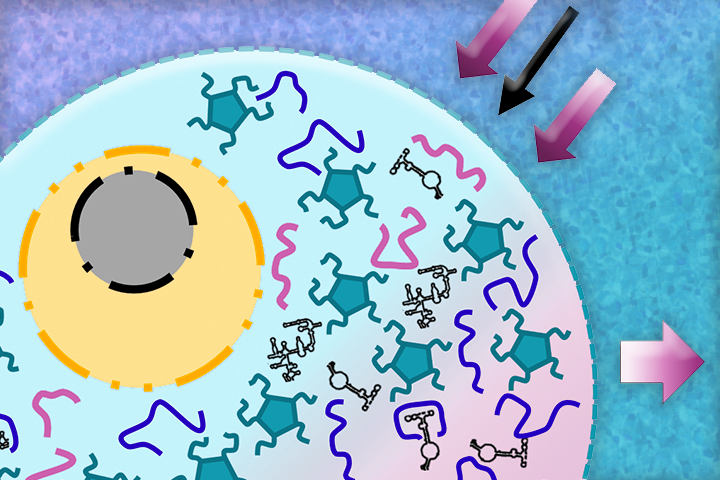 Cell killing mechanism in Lou Gehrig's disease, or ALS.
Molecular Cell — A molecular mechanism that leads to cell death in ALS patients was discovered. Key to the finding are special polypeptides called DPRs, whose protein sequence alternates between two amino acids. When DPRs reach a critical concentration, they disrupt normal cellular functions, inhibiting ribosome creation, and in turn preventing the creation of new proteins, which ultimately causes cell death.
Work was performed using EQ-SANS, SNS beamline 6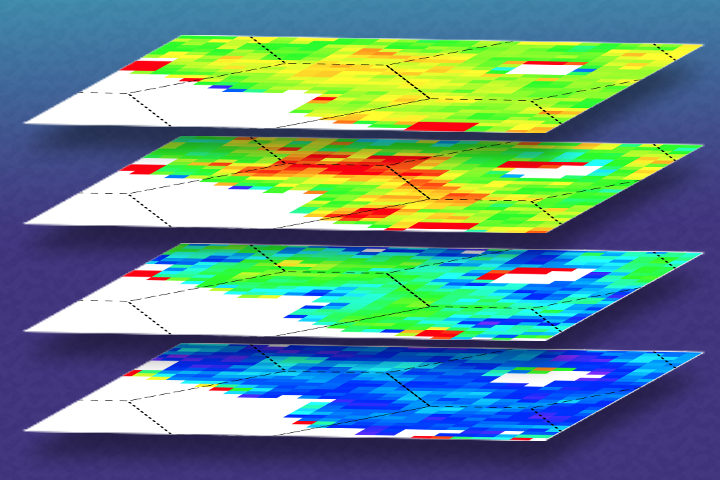 Signatures of a 3D quantum spin liquid in Ce2Zr2O7.
Nature Physics — Neutron scattering provided new evidence for a quantum spin liquid (QSL) state in a cerium-zirconium-oxide. At low temperatures, the material is magnetically disordered and exhibits a spin excitation continuum. Ce2Zr2O7 is a rare example of a 3D material exhibiting a QSL state, which is unusual because strong quantum fluctuations are generally associated with reduced dimensionality. The exotic magnetic properties of QSLs are highly topical and of great interest for possible materials for quantum computers.
Work was performed using SINGLE CRYSTAL, HFIR beamline HB-3A, and CNCS, CORELLI, and SEQUOIA, SNS beamlines 5, 9, and 17
HFIR and SNS are DOE Office of Science User Facilities. UT-Battelle LLC manages ORNL for the DOE Office of Science. The Office of Science is the single largest supporter of basic research in the physical sciences in the United States and is working to address some of the most pressing challenges of our time. For more information, please visit http://science.energy.gov/.—by Jeremy Rumsey